Our Supply Chain Solutions
Increase efficiency and lower your carbon footprint with world class materials handling and asset pooling solutions.
With one of the fastest asset pool cycles in the world, our supply chain solutions are designed to be traceable throughout your supply chain, maintain the most stringent quality standards and increase your speed to market. Locally made from locally sourced recycled resin, our materials handling products are engineered to meet the demands of moving your products safely and efficiently over vast distances. Our design and manufacturing expertise enable our products to be reused multiple times which keeps resources in circulation longer and reduces your environmental impact. From fresh produce on the farm, to national logistics and warehouse automation, we have the right solution to move products throughout your supply chain.
Our Range
With reusable plastic crates, folding crates, bulk bins, totes and pallets, our solutions will enable you to transition to a more sustainable solution.
Made in Australia and engineered to withstand local conditions, our range of products are designed specifically to operate within the vast climates around our country. With decades of manufacturing expertise, our existing range of products can suite a wide variety of applications, and where we don't have a solution that exists, we have an in house engineering and custom moulding team to create bespoke solutions for your needs. Nally Megabin
Australia's leading bulk bin used throughout the country for fresh produce, meat, poultry, and other bulk transport. The Nally Megabin is engineered and manufactured in Australia by Viscount Reuse.
Available as both a rigid bin and folding bin variant, in standard and low heights. The Nally Folding Megabin and Nally Megabin are suitable for national pooling through our Pooling Services.
Reusable Plastic Crate (RPC)
Our reusable plastic crates, also known as returnable plastic crates, or returnable produce crates, are a folding crate designed to be utilised in a pooling network.
Our reusable plastic crates (RPC's) are used in some of Australia's largest supermarkets and are trusted by more than 500 produce farms around the country. Designed to be used for asset pooling, our crates are designed to be utilised multiple times over for several years.
Our Circular Process
We believe that supply chains are circular in nature. Our solutions are designed to stand the test of time and transport goods throughout our vast country, time and time again.
Our class-leading asset pooling facilities are designed to increase turnaround times and provide a fast and efficient pooling process, which encapsulates our circular vision. Being reused multiple times over, and then recycled into new products and the end of their life, we have created a truly circular system.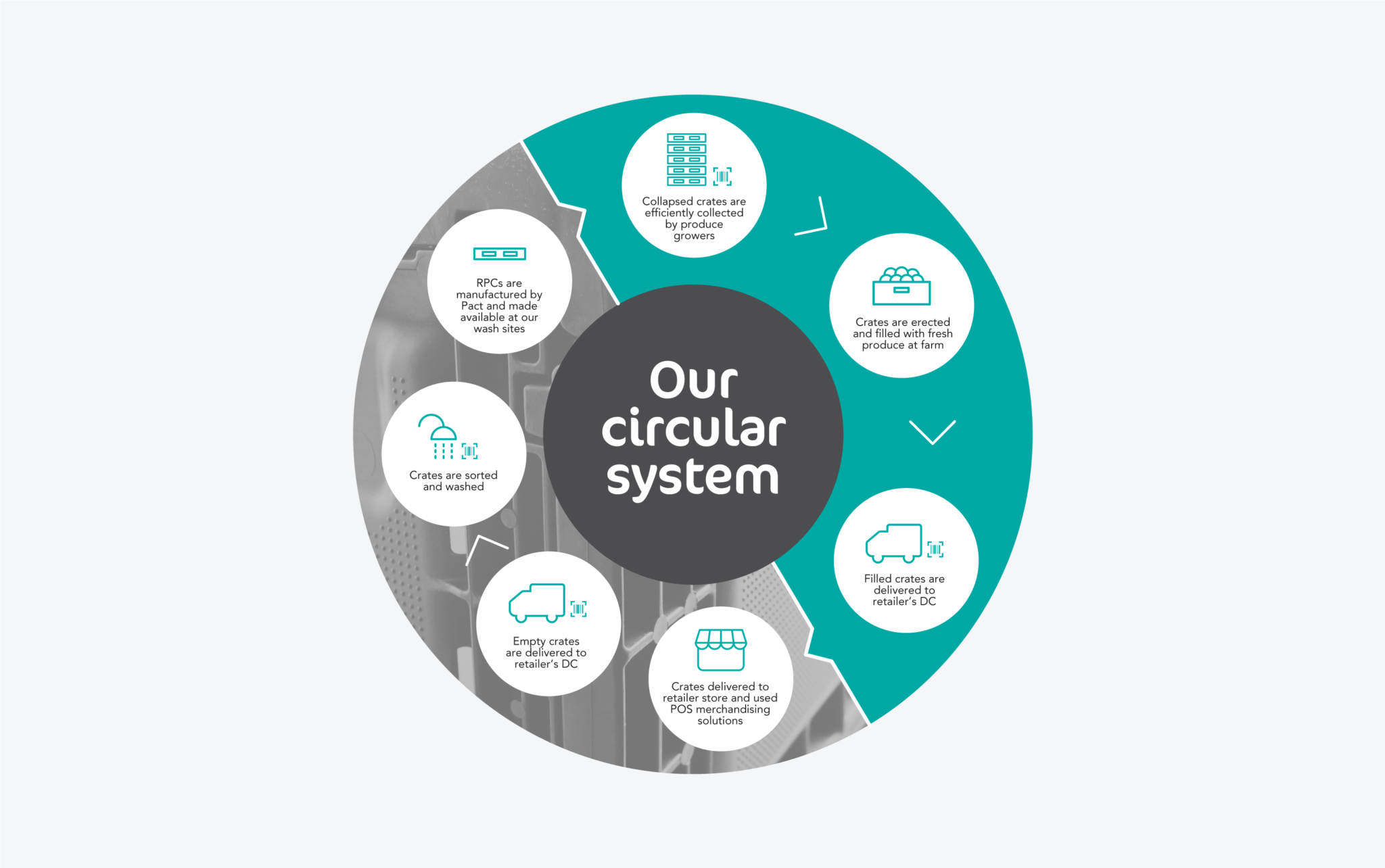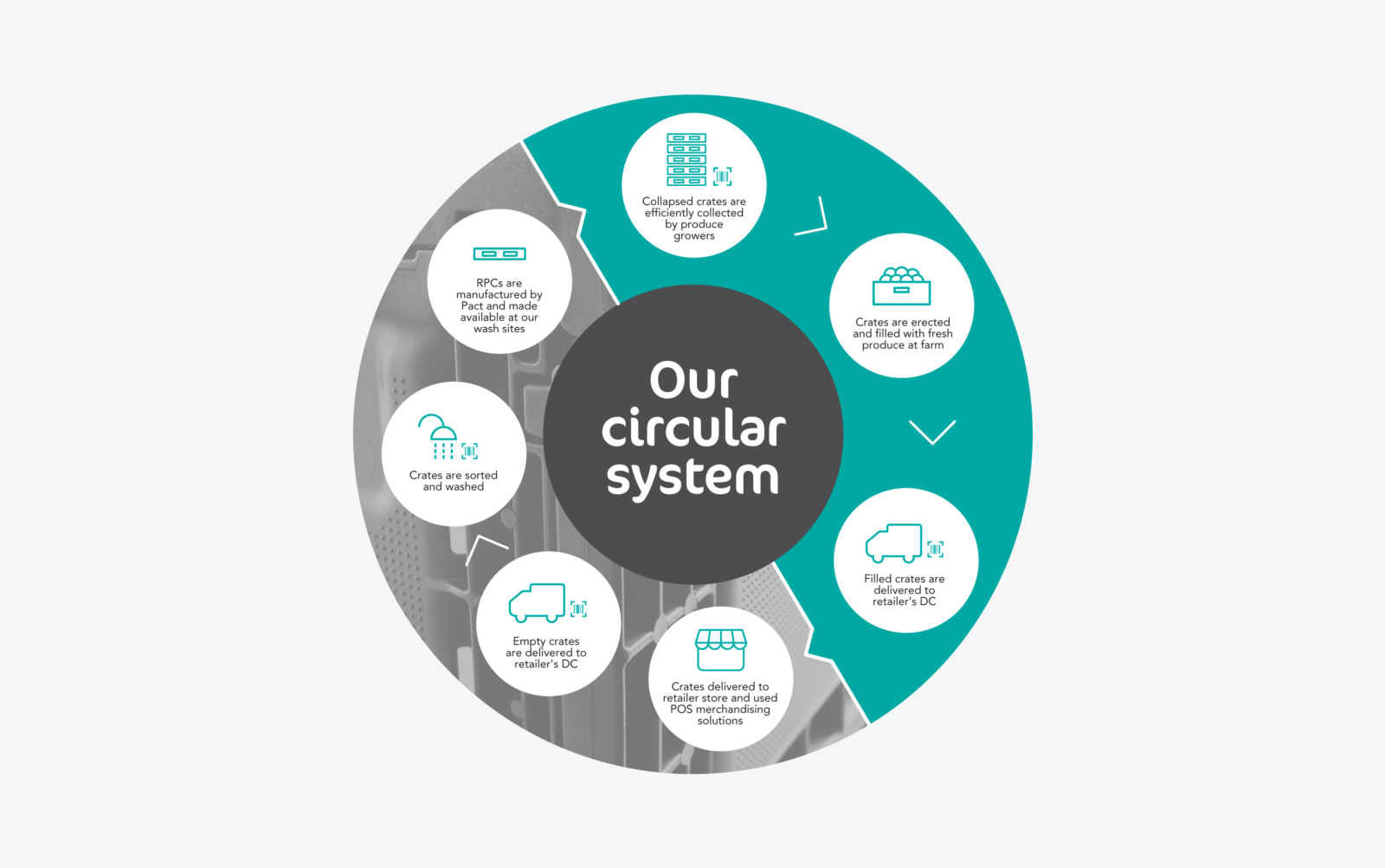 Eliminate Single-Use
Transition your business from single-use corrugate to Reusable solutions to increase efficiency and meet your sustainability targets.
Every supply chain has different requirements, at Viscount Reuse we specialise in creating Reusable solutions which can eliminate inefficient single-use solutions such as corrugate boxes. Our foldable plastic crates create a uniform footprint for every pallet, optimising every millimeter of space for maximum efficiency. By avoiding the recycling and remanufacturing process, Reusable crates achieve sustainability benefits in just their second year of operation and are designed to last for a minimum of 7 years.
Contact For Quote
Flexible Ownership
Every business is different, we can create an ownership solution bespoke for you.
Whether you need to purchase products outright, hire, lease, or create an asset pool, we will be able to tailor an ownership solution that works for your business. We can create a model that best utilises your capital expenditure and ensures you have a reliable fleet of assets for your supply chain.
Contact Viscount Reuse
We're committed to creating sustainable and efficient supply chain solutions. Contact us for a complimentary business review.
Contact Viscount Reuse
We're committed to creating sustainable and efficient supply chain solutions. Contact us for a complimentary business review.
"*" indicates required fields
This site is protected by reCAPTCHA and the Google Privacy Policy and Terms of Service apply.